Name: Damiana Romero
Nickname: Dami
Weight: 133 Lbs
Height: 5'4
Age:17
Nationality: Japaneses
Gender: female
Looks: Dami has long black hair with a hit of silver in it with swept bangs and has icey blue eyes. she has peachy colored skin. Rarely she will wear pants because she feels there to restricting, she will always wear light gray short shorts with a red belt and will wear a Dark purple muscle shirt. Her favorite types of shoes will always be chuck taylors
Personality: Damiana has a happy attitude and always covers up her issues  behind her smiles. She can sometimes be a bit rude when she first someone new.
Innocence Information:
Name: Blue Angels' Blades
Description: Blue Angel's Blades are six phantom blades that are on her back(three on each side).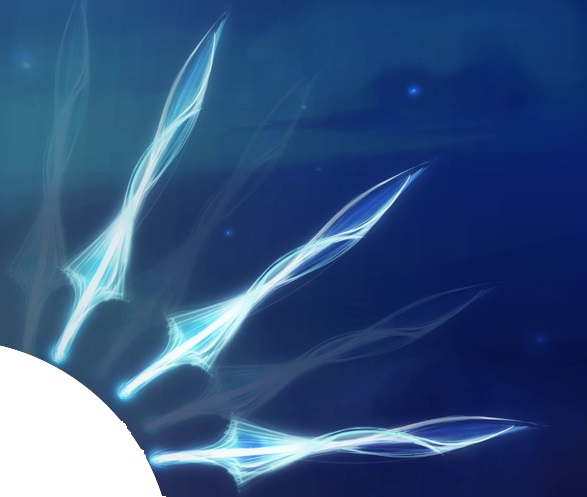 They only appear when she activates her innocence. When it is deactivated a cross symbol will be implace where the blades will appear.
Type: Equipment
Syncrorate: 60%
Abilities: Ballerina's Spin
-Abilities Template:
Name: Ballerina's Spin
Description: The six blades will form around her hips like a tutu on a ballerina. She only be able to attack this way once; if she misses her target the ability will not work again.
Past: Damiana is a second exorcist thus she was forced to be comfortable with innocence.
Background Info and Sample
History: Damiana's real name is Nomikis Takanashi. She was born in the Asian branch of the black order. She had escaped the branch at the age of 6 and was adopted by a Spanish couple. After a month of being in Zargoza,Spain she hit her head on a boulder making her have bad amnesia. She was given a new name and had never recovered from her memory loss.
Before Innocence Arc: Damiana had been exposed to the new world on September 3rd. The scientist had immediately started testing her to find the right innocence of her. Months pasted by and the scientist began to give up hope; till they had finally found the right one,but for some time she was left in a comatose state.
After recieving Innocence Arc:After receiving her innocence she woke up from her slumber and  had escaped to become her own person, not what 'they' wanted her to be. Her innocence often made her pass out or make her have seizures.
RolePlaying Sample:
Damiana's family was not as rich ,but they weren't poor ether. So she lived in a moderate house and live a moderate life. It's not like that wasn't good enough, she liked her life and loved her parents more, but she didn't want to grow up as Architect like her dad ,or even be a famous opera singer like her mother. No, she wanted to go out of the country, learn her ethnicity language , and possible become a finder for the black order. Damiana couldn't really remember what the black order was exactly only that there were finders. Thats all she knew.